DA BEI GONG SEMINAR
Part 1

Oct. 21-22  2017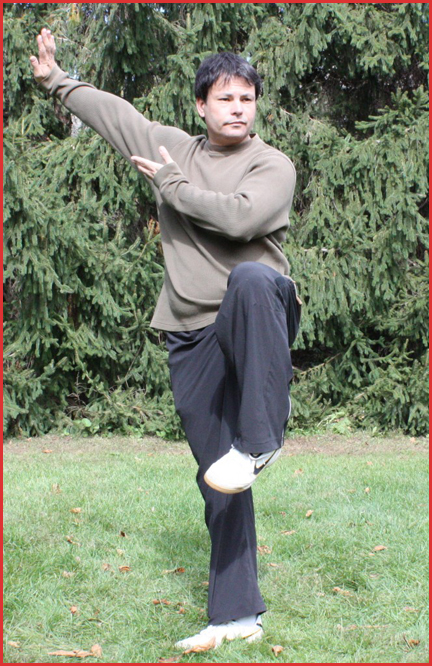 Da Bei Gong comes from the (Northern Shaolin) Chun Yuen Quan system. This is traditional Chinese Kungfu (as trained by the Shaolin monks) that became assimilated into the Beijing Opera (as trained by the theatrical performers). This is a very rare, dynamic and visually striking form of Chinese exercise.
Da Bei Gong is part Qigong – part martial art and quite dynamic (though it can be tailored to suit all ages and conditions). It trains excellent posture, benefitting Qi and the internal organs, and makes the body fit and strong, light, energetic and youthful. It especially strengthens the joints and as it opens the lungs it allows you to take in more Qi for strength and power, and benefits depression. It also promotes strong blood circulation and benefits cold hands. Part 2 will be taught in 2018.
Location: Ballroom, 1399 Chesterton Way, Walnut Creek, CA 
Time: 11am to 3pm Saturday and Sunday
Registration Fees: $220 Members ($255* Non-Members) payment received by Sept. 29
$240 Members ($275* Non-members) payment received Sept. 29 -Oct. 13.
$260 Members ($295* Non-members) payment received Oct. 13 – Oct. 20.
At The Door: $280 Members ($315* Non-Members)  (CASH ONLY!)
*Fee includes $35 cost of 1-year membership to Tse Qigong Centre. Polo shirt and member booklet included.
REFUND POLICY: If the seminar is canceled a full refund of amount paid will be issued promptly. If registrant cancels only half the amount paid will be refunded. No exceptions.
Comments on past Xing Shou seminar…..
Sifu Adam Wallace's Xing Shou seminar is a completely enjoyable and enlightening experience. I feel fortunate that I had the opportunity to attend these classes with such a skilled and dedicated teacher. While he shows (and instills in us) such reverence for these ancient and unique forms, he also demonstrates patience and respect for us as students. We all come to the class with different experiences and abilities, and yet he is able to give each of us the time and attention that we require.
Initially, I expressed concerns about whether these forms might be too advanced and difficult, given my "beginner" status. I appreciate that Sifu encouraged all of us to attend. I felt completely comfortable and benefitted in so many ways. The forms challenge the body and mind, in a lively and energizing way. I was concerned about muscle strain, but the opposite was true. I walked away feeling stronger and healthier. Sifu fosters a friendly and supportive atmosphere. It was great to feel the positive energy in our group and to learn more about each other in a different context. I plan to continue practicing these new forms, and to expand my confidence and endurance – Laurie Philips
So grateful I had the opportunity to attend the workshop this past weekend with Sifu Wallace. Before I took the class, I had no knowledge of Xing Shou, but now I feel I have a good foundation and a real curiosity to learn more and continue my practice. Just from one workshop, I felt stronger and more energized. Sifu Wallace is an excellent teacher with great skills. None of us in the class had any experience in Xing Shou before the workshop, and now I have no doubt we each will be practicing the exercises we learned every day and are already planning our next group class. If you have the chance to attend one of Sifu Wallace's workshops, don't miss it! – Jennifer Grinold
This ancient form is the most joyful and uplifting exercise I have ever experienced. In addition to it lifting my spirit every time I practice it, Xing Shou is also strengthening my shoulder which was weakened by an injury three years ago. The shoulder has trouble staying in the socket completely, but Xing Shou, because of the dynamic use of the the arms and whole body, has begun to heal the shoulder. I feela connction to an ancient tradition as I continue to practice. Xing Shou has helped by posture, strength and sense of well being. I am very grateful to have been introduced to it. Sifu compared Xing Shou to a diamond……"Keep Polishing so you can see the gem" – Susan Trabulse 
Thank you for a grand weekend!  I really enjoyed learning Xing Shou and your teaching style made it easy to learn. Taking small breaks really helped the information sink in. I was doubtful I would be able to remember the moves, but so far I have! By Sunday afternoon I could already tell I was gaining confidence in learning the moves and understanding the flow of energy created. Xing Shou is filled with beautiful movements that already make me feel more flexible, improve my posture, and soothes my soul!  I will enjoy this everyday!  – Karen Yee
I very much enjoyed the Xing Shou weekend workshop. Sifu Wallace is without doubt an excellent teacher. The repetitive aspect of the teaching method is most helpful (and obviously necessary), though I still amaze myself by forgetting a routine after doing it so many times. I know that it just takes more repetitions! And the student-to-student observations make you concentrate on details. The atmosphere was very relaxed, the group was a good size (and great people!), and the room and setting is beautiful. I look forward to continuing with Xing Shou – David Cronin
I feel that this class has given me a greater range of motion, and that it forces me to embrace better posture. I thought the class allowed us to learn from each other as well as from Sifu. Having fellow students watch and correct the different forms helped the watcher as well as the one executing the form – Don Stewart
Great class! The form helped me stretch out and loosen old injuries of shoulder pain. I seem to have a bit more of limberness in my shoulder joint and with more practice, my shoulder to get back to better than normal. The form also helped stretch out my upper back, which I dearly needed.  I think it was an old weakness of my body. The leg stance conditioning was really good – Warren Yee